Fall Out Boy just released the artwork for their upcoming album, Save Rock and Roll, and it definitely rocks!
The striking image features a boy in a monk's robe, and another blowing smoke in jeans and a t-shirt, signifying the coming together of tradition and change. "We came across the punk and monk image on the internet and it really solidified what we were trying to get across on the record," the band states on their Tumblr page. "The idea of old and new clashing."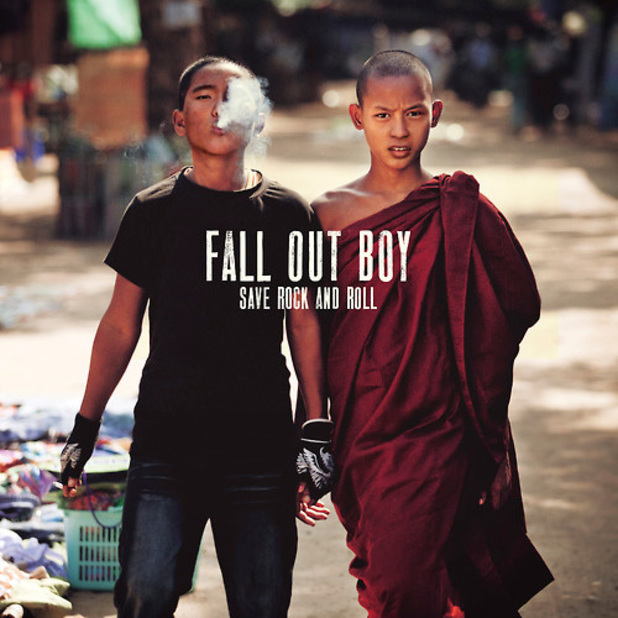 Although Save Rock and Roll doesn't hit stores 'til April 16th, the band is constantly working to save the world. Here's how:
+ Pete Wentz Rocks The Vote
Fall Out Boy bassist Pete Wentz encouraged fans to Rock The Vote last fall, saying, "You can't complain if you don't participate." Pete grew up in a political family where he learned the importance of keeping up with politics and exercising his right to vote. At forty-four million strong, young voters represent more than one-fifth of the electorate, and it's Rock The Vote's goal to get all of us up and voting.
+ Pete & Pat Find A Place Called Home
Pete and Fall Out Boy's lead singer Patrick Stump recently attended the Stars & Strikes Celebrity Bowling and Poker Tournament, where they showed their support for A Place Called Home -- a non-profit youth center in South Central Los Angeles. APCH empowers at-risk youth through programs in education, arts, and well-being.
+ Pete Wants You To Know Your Digital Rights
Pete Wentz ain't havin' digital abuse! Last December, he partnered with MTV's A Thin Line to give self-designed bracelets to the first 5,000 people who sign up for the Digital Rights Project. The project aims to teach young people their digital rights. Rights like, "Online and on my cell phone, I have the right to live without pressure or abuse." In just three years, A Thin Line has helped over 1.5 million young people learn their digital rights and stand up to cyber bullying.
Take action below to save the world with Fall Out Boy.